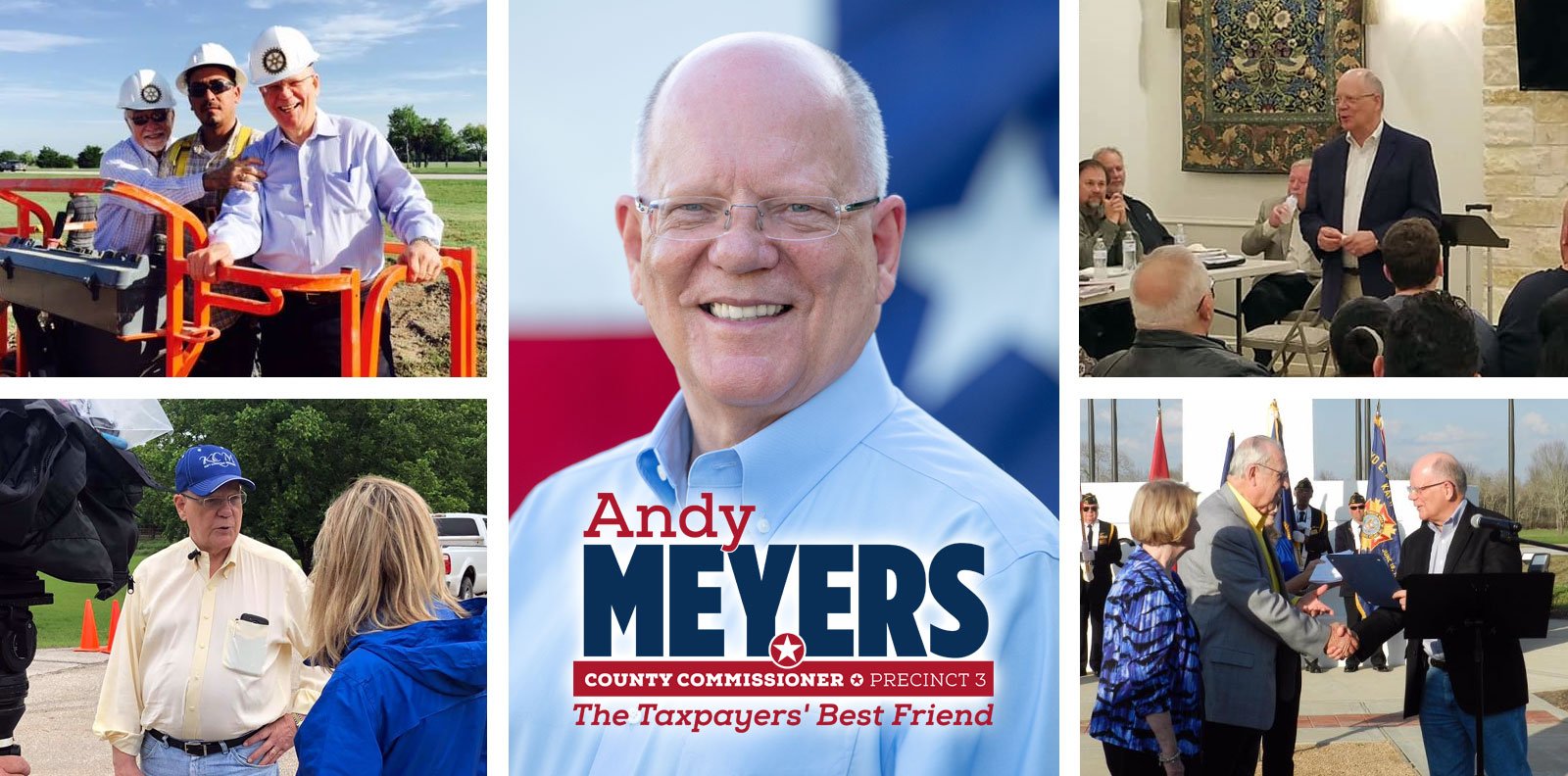 Re-Elect Andy Meyers:
Conservative Republican for
County Commissioner
As our county commissioner, Andy Meyers has been a relentless conservative voice:
Lowering property tax rates: During Meyers' time on the court, county property tax rates have been reduced by nearly one-third, saving county taxpayers more than $1 billion.
Protecting Private Property Rights: Andy believes the U.S. Army Corps of Engineers made a huge error in judgment, and area residents paid the price when they stored flood waters on private property, unconstitutionally taking hundreds of private homes. He filed suit for a declaratory judgment that the Corps' actions were an unconstitutional taking.
Increased Law Enforcement: Meyers led the effort to step up law enforcement on Fort Bend County roadways, apprehending and shutting down drug trafficking and other illicit activity by funding more officers without the use of county property tax revenues.
Fiscally responsible investments in infrastructure: Andy led the effort to build the largest mobility project in county history – the FM 1093/Westpark project – using creative financing without the use of county property tax revenues.
GOP Activist: National Delegate to Republican National Convention, caucus chairman for CD 22 at several Texas GOP State Conventions, highest ranking GOP county official in Fort Bend.
"The Taxpayers Best Friend," and "one of the good guys on taxes" according to conservative Texas State Senator Paul Bettencourt
Working to Rebuild our Communities
From the moment Harvey formed off the coast, Commissioner Andy Meyers was focused on the needs of area constituents. Even as the flood waters rose in his own living room, he set aside his own personal crisis to focus solely on a major public catastrophe. And Andy Meyers hasn't stopped fighting for us for a single second.
Unconstitutional Taking:
Andy believes the U.S. Army Corps of Engineers made a huge error in judgment, and area residents paid the price. He filed suit to ask for a federal ruling that our citizens suffered an unconstitutional taking of thousands of private homes.
Breaking Through Bureaucracy:
Meyers worked relentlessly to receive environmental clearances for desilting the Willow Fork of Buffalo Bayou on federal land inside the Barker Reservoir and repairing miles of further damages upstream.
Recognized Area Leader:
Andy is the Past Chairman of the Houston-Galveston Area Council, where he has had an instrumental role in the distribution of federal and state disaster aid for affected communities in the multi-county region.
Responding to Flood Concerns:
Meyers coordinated community meetings in Katy and Fulshear to connect area residents with FEMA to address storm damage caused by Harvey. He brought suit in federal court concerning the U.S. Army Corps of Engineers' decision to release Barker Reservoir waters, and authorized a county-wide watershed study to future proof our communities.
Funding:
Andy partnered with the Fort Bend Drainage District, and state and federal partners like Congressman Pete Olson, to secure tens of millions of dollars in funding to repair and restore drainage channels such as Willow Fork of Buffalo Bayou. Andy also worked tirelessly to connect impacted residents with FEMA to apply for storm relief.